Itinerary: Acadia with a dog
A long weekend in Bar Harbor and Acadia...with a pup!
Acadia is one of my favorite places I've visited in the past few years.
The National Park is on the ancestral land of the Wabanaki people. The Penobscot Nation and the Passamaquoddy Tribe have lived on Mount Desert Island and the nearby coast for more than 10,000 years. As Jill Tompkins, a Penobscot Nation tribal member, writes in Down East, "Bar Harbor was, and still is, a beloved site for collecting shellfish, particularly the clams that previous generations of Wabanaki would bake or dry by smoke. Even after colonization and the arrival of the rusticators, Wabanaki people continued to make seasonal trips to the area."
Tompkins writes that the French gave the rights to Mount Desert Island to the adventurer Antoine de la Mothe de Cadillac in 1688, in spite of the presence of the Wabanaki. A century later, the Commonwealth of Massachusetts illegally promised the Passamaquoddy and Penobscot tribes an annual stipend and provisions like food, clothing, and blankets in exchange for their ceding most of their ancestral land, even though Congress has barred states from buying, selling, or trading for Indian land without Congressional approval. The tribes sued the Department of the Interior in 1972, and settled in 1980 for $81.5 million, much of which was spent on buying back land.
The Abbe Museum in Bar Harbor is a museum of Wabanaki art, history, and culture.
The request: What to do on a long weekend in Bar Harbor/Acadia with a dog?
I won't hold back: My favorite hikes from our 2018 trip to Acadia are not suitable for dogs. Taking pets on the steepest, most exposed routes and those that feature iron rungs (Beehive! Precipice!) is either discouraged or outright prohibited. The National Parks Service has a full list of the trails that are off limits or not recommended for pets.
But don't go yet! There are still 100 miles of trails and 45 miles of wide, flat carriage roads where pets are more than welcome (on a leash, of course). Carriage roads are a great way to visit some of the park's many lakes (the Obamas biked around Witch Hole Pond on a vacation in 2010) and a carriage road goes all the way up to the top of Day Mountain. Here are just a few suggestions…
Go big
At 1530 feet, Cadillac Mountain is the tallest mountain in Acadia and kind of a must-do. We took the steep exposed way up on our trip, but both the North and South Ridge Trails allow pets (I think we descended via the South Ridge, which was gorgeous). But, if those look too long for you or the pup, you can also drive up and walk around a short, easy loop at the summit. Many people hike or drive up early, early in the morning to catch the sunrise.
Skirt the edge
The 2.2 mile (one way) Ocean Path is another iconic Acadia trail. It goes by Thunder Hole, a natural rock feature where, at high tide, waves can crash in just such a way that they create a thunderous roar and a big splash. The effect is loudest 1-2 hours before high tide or just after a storm. The trail also goes by Sand Beach, which is open for swimming, but unfortunately closed to pets between May 15 and September 15 (some parts of the NPS website say September 8).
Freshwater option: In 2018, we had a lovely swim at Echo Lake, on the other side of the island, but it's also closed to pets until September 15. But, I highly recommend it if you can leave the pup behind for a couple hours!
For when you're feeling low-tide
One of the walks we didn't get to do in 2018 because we never actually made it to Bar Harbor is the low-tide walk to Bar Island, which is one website's number one hike for dogs. I love the idea of a trail only accessible part of the time! So mysterious!
Walk on the quiet side
We stayed at Seawall Campground on the quiet side of the island, so we explored more there than we might have otherwise. There's a couple really nice, short walks near the ocean that aren't likely to be crowded: The Wonderland Trail and the Ship Harbor Trail. I really enjoyed walking both of those on a gray, drizzly day that was too wet for longer, steeper hikes. Driving out to Bass Harbor Head Lighthouse is also nice.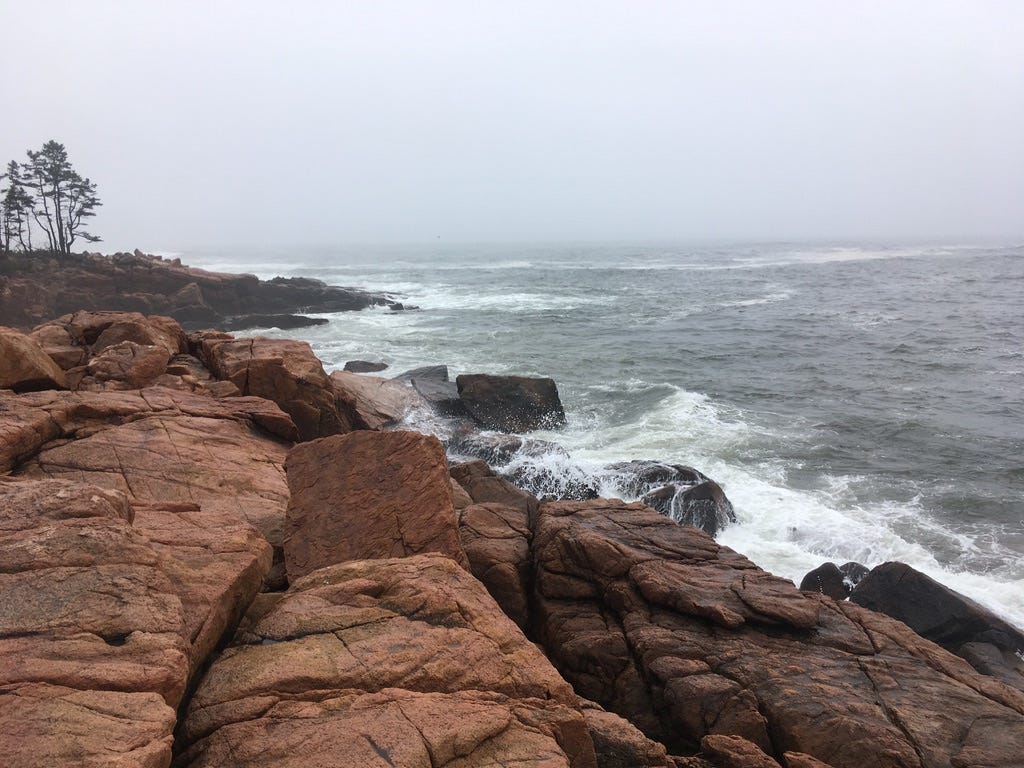 Bonus tip: If you're looking for lobster, make a beeline for Thurston's in Bass Harbor, and order the lobster stew.
This is silly but cute
If you go and learn all about the pet regulations in the park, your pup can be sworn in as a Bark Ranger and "owners will be eligible to purchase a special Bark Ranger collar tag at the Eastern National Bookstore at the Hulls Cove Visitor Center."
Learn more
If you're still looking for more to do in Acadia, there are tons of resources for finding good hikes: The National Parks Service has a hike database which you can search by destination (summit, lake, etc.) or by hike type (loops, lollipops, or out-and-backs), or by location, and every one of those hikes says whether it's ok for pets or if there are particular restrictions.
Joe's Guide to Acadia also has a list of hikes, and there's a highlight color for "Acadia Classics." (No indication of pet-friendliness, though, so you'll have to cross-check with the NPS website.) And the NPS has uploaded zoomable PDFs of all the maps you might need here.
---
ICYMI
In my previous post I shared my first story for Backpacker, about hiking to all five New York City boroughs, as well as some photos from our trip. (And I'm always sharing trip photos and gardening (and cooking) snaps on Instagram.)
---
Where next?
Paid subscribers, send me your requests for Pinch of Dirt itineraries! No place too obscure, no request too specific.