Itinerary: Day hikes near the Bay
Make sure it is safe and appropriate to be hiking before heading out
An interesting itinerary request came in last month, from a good friend of mine who is moving away from Oakland soon and wanted to go on a cool day hike near San Francisco before he and his wife leave the Bay Area. But within days of getting his email, my Twitter feed was suddenly a blur of orange, filled with photos of the fires ripping through the West Coast and choking the skies in the Bay with hellfire-looking smoke. The USDA Forest Service temporarily closed all 18 national forests in the state. Many state parks have been closed since August; as of September 10, 30 parks were fully closed and five were partially closed.
The Bay Area is the traditional, ancestral land of the Ohlone people, which includes the Chochenyo and the Karkin in East Bay, the Ramaytush in San Francisco, the Yokuts in South Bay and Central Valley, and the Muwekma tribe, according to the Bay Area Equity Atlas. Other Indigenous groups in the area include the Graton Rancheria community (Coast Miwok and Southern Pomo), Kashaya, Patwin, and Mishewal Wappo in the North Bay, and the Bay Miwok in the East Bay.
During a particularly devastating fire season, some are reconsidering Indigenous land management practices like controlled burns that the U.S. and California governments halted when they forcibly displaced tribes and banned their ceremonies, Lauren Sommer reports for NPR. This allowed fuel to pile up, creating ideal conditions for hotter, bigger fires that are harder to control. It's clear that we are reaping what we've sown in terms of land management, and earth management more generally; these fires are without a doubt larger and more destructive because of human-caused climate change.
Still, a Bay Area potter I follow on Instagram posted photos from what looked like a hilly beach hike and a backyard hangout with friends, so I've gathered that some outdoor activities are or were continuing as usual-ish, if under extraordinary circumstances. (Here's the harrowing story of four backpackers who out-maneuvered the Creek Fire.)
These are the hikes I sent my friend, in the event they are open or reopen before their big move, but with the caveat that they should make sure it was safe and appropriate to be hiking before heading out; if not, they can save these trips to do on a future visit/vacation in the area.
For up-to-date info on outdoor recreation in the Bay Area right now, the San Francisco Chronicle is keeping track of which parks/trails are open and which are closed. I wrote this post in mid-September before going on vacation and scheduled it for October 1, so the info may not be current.
---
Waterfall hike: Cataract Falls [Temporarily closed]
Practical Wanderlust has a long list of the best hikes near the Bay Area, but I swooned at the first one, and the picture of a gorgeous, mossy, lush green oasis featuring a dramatic waterfall. A trail guide from NorCalHiker says that Cataract Falls is actually a mile long series of small cascades that cut through "a steep redwood-lined gully." It also looks like the 7-8 mile loop includes some nice views, too, when it leaves the redwood forest. Unfortunately, according to AllTrails, it's currently closed due to the fires.
Another waterfall hike: Alamere Falls [Temporarily closed]
I am a sucker for waterfalls, apparently, and this hike, also in the Practical Wanderlust list, looks so wonderful. It's an 8 mile out-and-back, and mostly flat, but it ends with a waterfall tumbling off a cliff and streaming into the Pacific Ocean. Unfortunately, according to AllTrails, it's currently closed due to the fires.
High point: Mount Diablo
Travel & Leisure says that at 3,849 feet Mount Diablo is the Bay Area's highest peak, but SoCal Hiker says it's just among the highest—maybe it depends on how you define the region. In any case, I also like a long, strenuous day hike to a high point, so I had to suggest this one. Dan Stefanisko, supervising ranger at Mt. Diablo State Park, told SoCal Hiker that you can see 35 of the 58 counties in California on a clear day (so, not a chance right now, but another time), and there is even a direct line-of-sight to the summit of Half Dome in Yosemite, 135 miles away. As AllTrails warns, this 13.1 mile loop is only recommended for very experienced adventurers.
EDIT 10/6/20: A reader writes in to say, "To fact check Travel & Leisure, Mount Hamilton is the highest peak in the Bay Area featuring Lick Observatory which always pops out as the white dot in the Diablo Range and is one of the largest telescopes in the US! My house growing up was near Mount Umunhum, also a high peak in the Bay Area but not the highest, which translates to resting place of the hummingbirds in Ohlone."
Hike San Francisco: Crosstown Trail
I'm a sucker for an urban trek so it would be remiss not to mention this one, a 17-mile trail that winds through the city of San Francisco. For the New York Times, Nellie Bowles wrote about walking it with some of the people responsible for its existence. I really can't imagine a better way to get to know a city, or to goodbye to one, than to walk a trail like this. You can find a map here.
A hike dear to my heart: Redwood Loop [Temporarily closed]
I have family in the Santa Cruz/Aptos area, and have spent many delightful holidays there. Consequently, one of the single trails I have walked more than any other is the very short 0.8 mile Redwood Grove Loop Trail in the Henry Cowell Redwoods State Park. I think there are pictures of me standing in the same tree (see below) at all ages/stages of life! (I have photos in my computer library from at least three separate visits to the park since 2007 alone.) Although this short loop is great for family members of all ages and abilities (I believe it's flat and even enough for wheelchair/stroller access?), if I were to visit now I would want to tack on a longer hike, too, like this one. (And if you're visiting with kids, the nearby Roaring Camp train is also a lot of fun, and a good way to see a bunch of "Big Trees" from the comfort of a bench seat. A little part of me regrets telling my mom that we didn't need to do the train *again* on our most recent California trip last Christmas.)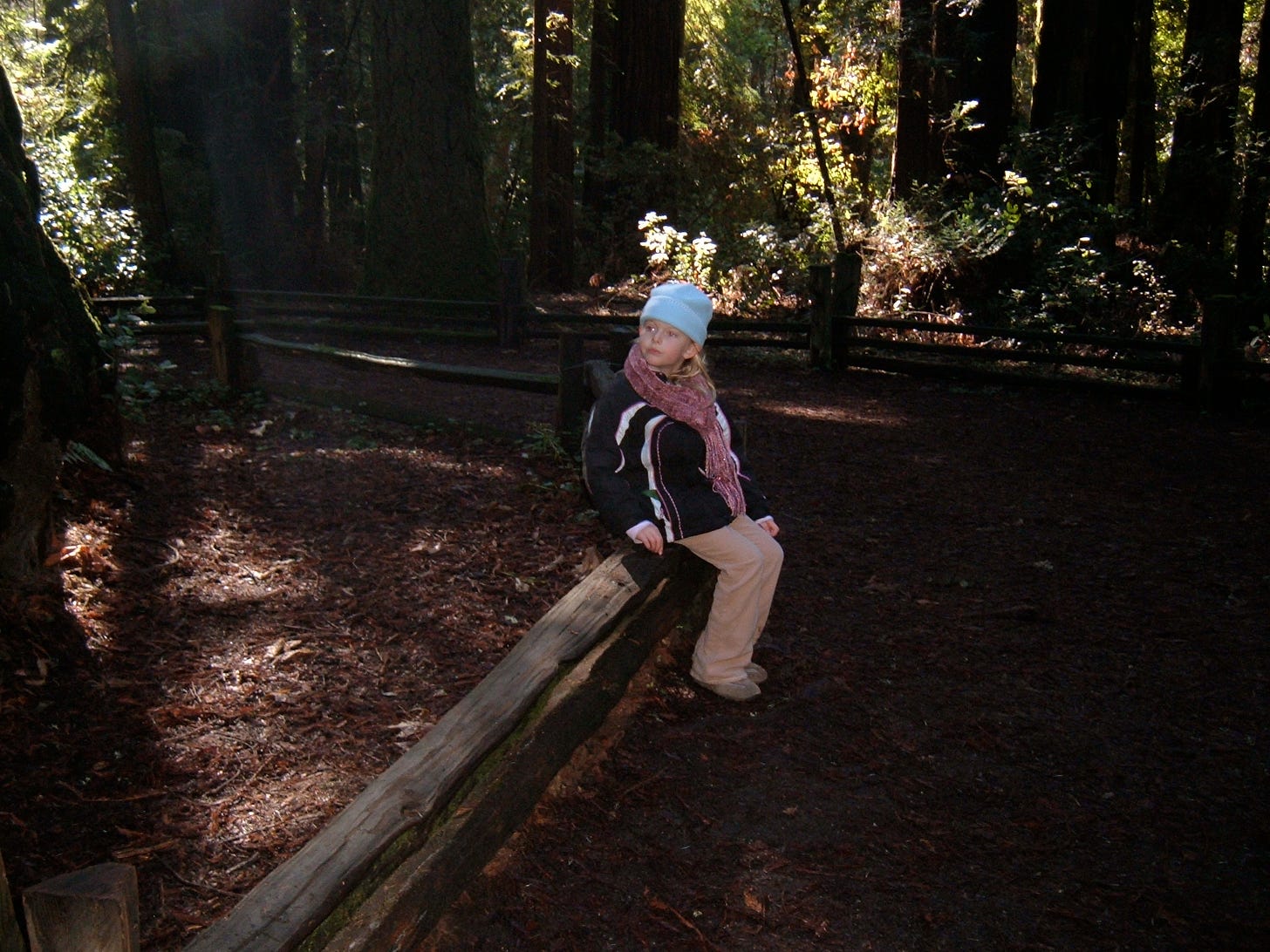 My sister looking pensive on a trip in 2007.
Siblings posing next to tree #6 in 2010.
Standing in a tree.
Standing in front of a cross-section of a redwood tree, annotated with the great world events that correspond to different rings in the trunk.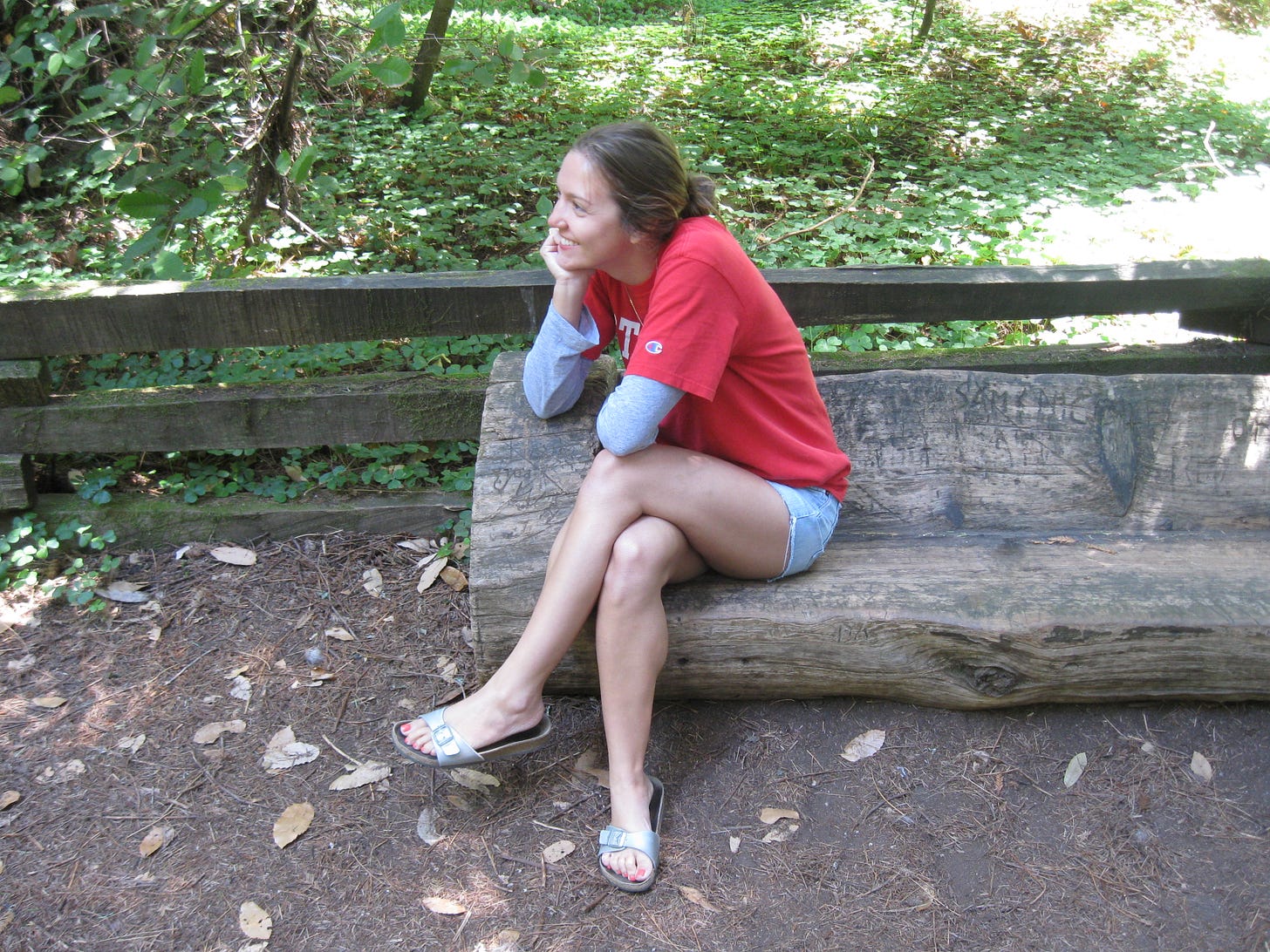 Absolutely posing for the camera on a trip in August 2011 (none of the photos with the trees came out!)